Well to start my season off, i was asked to do some ADC work for a farmer because they were absolutely destroying his corn fields. After he combined last week, he told me he figured he lost about 15%-20% of his crop because of the coon. I tried to hold him off until it was trapping season, but he said he wanted them gone now and it was either me or someone else he was going to get in there to do the job. So i mentioned to him that he needs to call the DNR and get a permit for crop damage and an allowance to trap coon on his property before season. Well after about 3 days go by he said he got a permit and wanted me to start the work. I was suprised that he got it that quick. I then asked if i could trap coyotes on his property as well, since i was going to be in the area, and he said get rid of all of them too. So i packed up the fourwheeler, since this neighbor is only 2 miles down the road, and i began to look over his property. Well i figured i might as well clean them out quick, so i gang set a small area with 30+ traps just for coon. Then i set 4 dirthole sets for coyotes on his property as well. I also thought this would be a great time to get some kinks out, and test the different style of anchoring i was trying that year (pogos). So the next morning came and i was quite excited to to go check the sets, because it would be like christmas. So here is the result of day one:
Then comes day two check with a night that was a little colder than the first, and i thought the coon might move because of this. I brought the beagle with this time because the wife wanted nothing to do with him that day, so i figured i would let him have a little fun. When he sees a live coon he gets so wound up that he shakes uncontrollably bad, and hounds non stop until the coon is dead

He never lays into them, but he sure does get excited.

Here is the results of the second day check.
The next check i had to make sure i had my dad check my sets for me, since i had the Minot tournament to go to, and well when i got back home on sunday, dad said that i didn't have any coyotes and he didn't get a chance to check the neighbors line for coon (which is ok because they were all on drowners or a conibear). So i ran my line and only had two coon, and my first coyote. I have been trying to trap coyotes for the past couple years, but the population in my immediate area is very slim. I am very lucky to see a track when i scout for sets. Although someone got to him before i did on sunday, i was more than pleased to see a coyote held by my fully modified number 2 bridger with a perfect pad catch.
The next few checks only resulted in a coon here and a coon there the rest of that week, so i am thinking i put a decent dent in the population right around his house. I brought my wifes nephew with me on one of the checks and we had a couple conibears connect, and he was more then smiles that day. He even fleshed a coon. He is 8 years old and from the cities, so i thought that was pretty dang good for a kid. I also let him pick a coon to keep and tan out of the selection that i had, and if you look in the second day check, there was a very large silver female, and he thought that was the best coon for him. Of course that was my highest dollar coon at the time and barely fit onto a jumbo board

. I told the farmer that other coon can move back in and that if he has the problem again next year i would be more than happy to take care of them for him. The farmer was completely shocked at how many coon i caught in a short amount of time.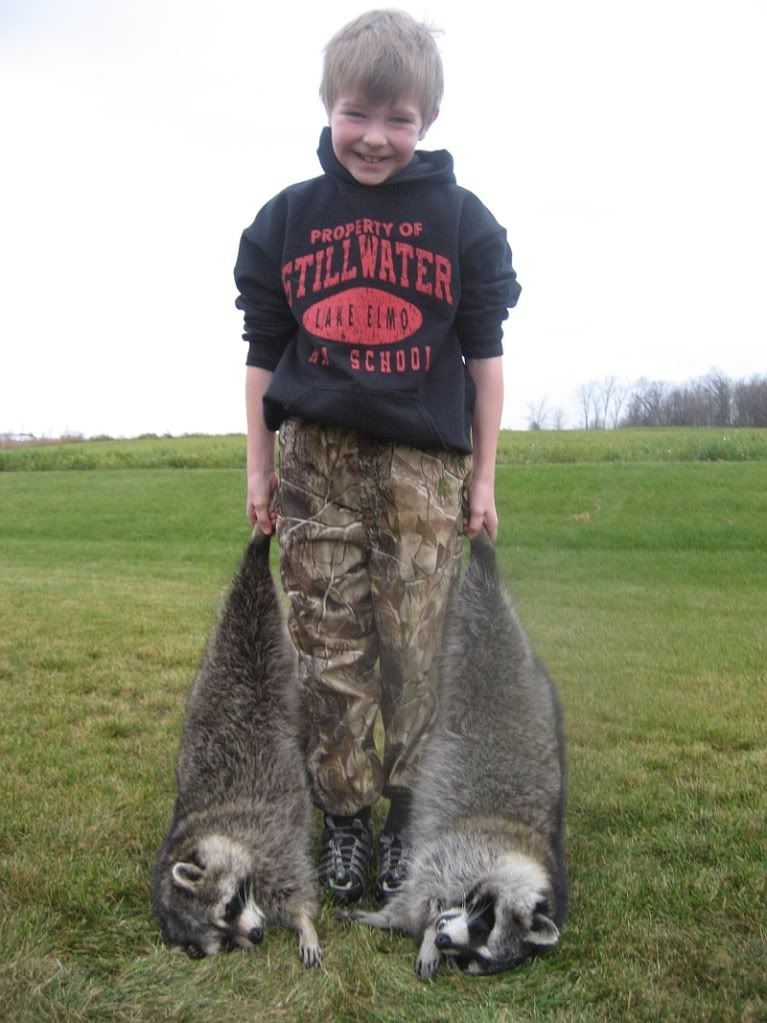 Before i knew it, the upland season was upon me, and it was time to get sets out starting at 9am sharp on opening day. Well i spent the day gang setting the coon feeders and driving around trying to get rid of 100+ 220 conibears that were riding in the back of the truck. About 80% of the corn is completely out and under right now around my area, so i had to advneture a lot further away than i wanted to, but sometimes that what a guy needs to do, just to get steel out. I only ended up getting 56 - 220 conibears out that day, and i had the tires gang set really hard. The next morning i found my self in the cities at a baptism for my wife's niece. So i'm sure everyone knows how i was that day, just chomping at the bit to go check my sets. Well i finally got home and this is what the results were checking in the rain.
Then monday night came around sooner than later, and i found myself thinking that i should really keep these traps cleaned out, so when i got home at 5:30 i ran the 135 mile trap line from start to finish. It didn't result in much of a catch (like i thought it should have, a warm rainy night), but two of the coon were some little grizzly bears. The middle left coon weighed in at 34 lbs even, and the middle right coon weighed in at 27.08 lbs. None the less it was nice to see a couple of very large coon in the shed.
Last night was an absolute hurricane. I called this the hurricane check. There were gusts recorded up to 60 mph when i was out checking my line. There were power outages all over the place, and i ended getting the tonnel cover on my truck tore off and tossed. I had to half jerry rig it to get it back on my truck and locked on so it wouldn't blow off again

. Well the first set was a single trap that had nothing in it. The second set was a new set i put in the night before and it went 2 for 2. i thought right there that the coon moved in the high winds and the cold front the night before it hit. So i ran the line from start to finish and ended up with 16 coon and 2 skunks. It sure takes a lot longer to run a line when its full of critters, than when they are mainly empty traps

So i snapped a quick tailgate pick of the little bandits, and started skinning. If i wouldn't have stopped at home for supper i would have been in bed at 11, but since i did stop, i was showered up and in bed at midnight. I saw two other coon on my line when i was checking that were in the road or crossing right in front of me. This tells me they might have moved last night as well in those really high winds. I added one more pic of them layed out on the floor so you can see the line of ringtails

This was my best 24 hour check i have had to date. Mitch i apologize for not getting that pic of skinning machine last night for you, but i will take one soon and post it