Well it's time to role the 2010 season into my spring beaver line. Here are some of the highlights so far.
First i started off the season by skinning 101 beaver out of a 102 beaver pile in one night

Thanks Mich and Marty for all the work

Then i ran out on a saturday evening real quick and put out 20 sets. I checked those 20 sets the next afternoon and it produced 14 large beaver

This is the highest catch percentage i ever had. 70% is pretty good in my book.
Out of the 14, one of them was 100% jet black

The next day after i caught the 14, i ran the same 20 traps again and plucked out 11 of them.
Then i started putting out more traps and covering more ground. I ended up with around 60 sets our for beaver covering a fair amount of area. This was the first check. There are 20 beaver in the pic
Then i started doing a 3 day check, and on the first 3 day check, it produced 25 beaver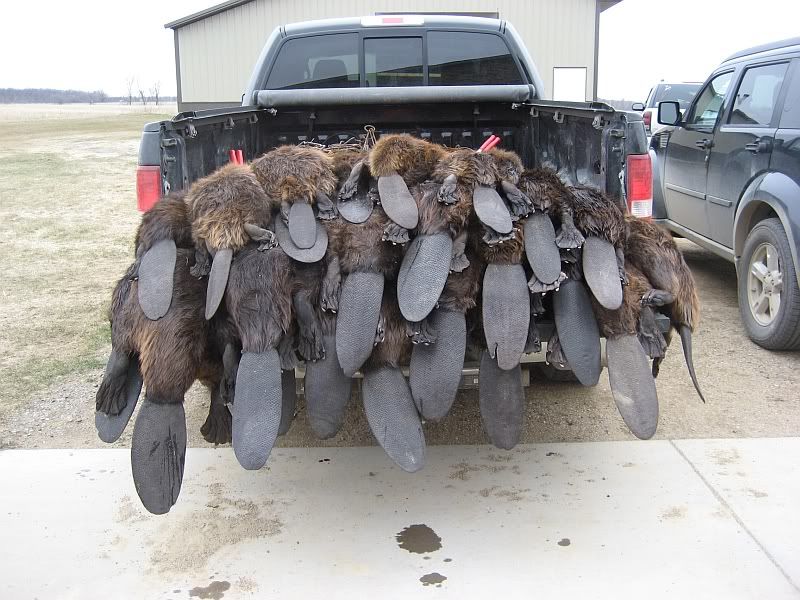 My line has drastically went downhill since then, and my last check i only had 10 beaver for 70 traps. I did end up finding some serious sized castors out of one of the beavers. These castors alone, weighed just shy of a pound. I saw dollar signs when i plucked these monsters out