First and foremost, i would like to thank Terry Bush and his entire family for the great accomodations and amazing food once again!! If it wasn't for the Bush family, this hunt would not take place and be as successfull as it is. I would also like to thank all the participants who came out and participated in the 2010 Minot fall Predator hunt. Your a great group of people that help keep these tournaments running very smooth. Keep up the great work and we will try our hardest to keep putting on these fun hunts.
There was a total of 18 registered teams for the hunt this year, but two of the teams were unable to attend and make the hunt. With windy conditions and a cold snap that rolled in the night before the hunt, 16 teams showed up and took there chances at winning the title of 1st place at the 2010 Minot fall Predator Hunt. With check in times of 5am and a rules meeting following shortly after, all teams departed there directions to there secret spots. Check times came all too soon for most im sure, but at 8pm we had all but two teams come back to check ins. After all coyotes were checked in, there were a total of 27 coyotes and 1 fox shot. There were a total of 81 coyotes seen, and 3 fox. After the cost of the hunt (plaques and advertising) were taken out, and an additional $10 for the points series, the total purse came to $720.00 to split between the top 5 teams.
1st Place: Team #2 Damon Finley (devildog) and Tim Finley checked in a total of 8 coyotes with a combined weight of 197.89 lbs for $216.00
2nd Place: Team #18 Dave Guttormson (BucksnBears) and Tom Guttormson checked in a total of 5 coyotes with a combined weight of 131.7 lbs for $180.00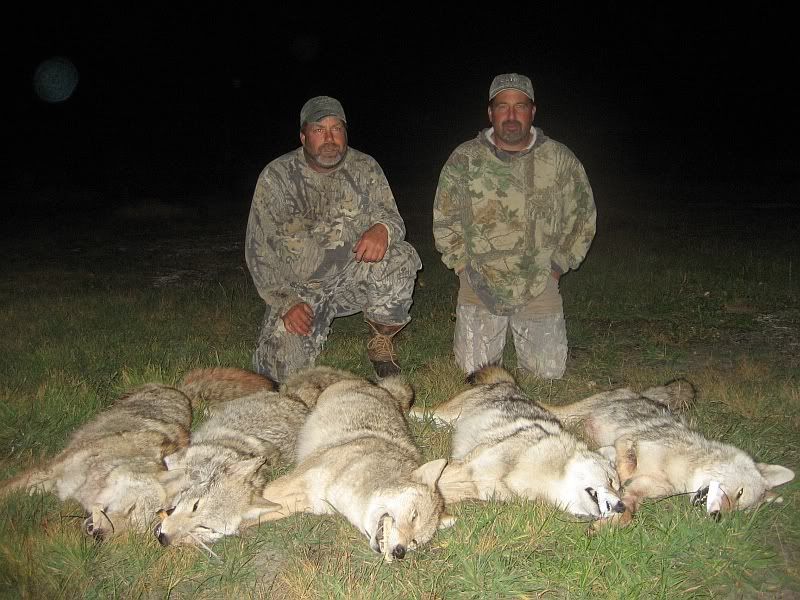 3rd Place: Team #14 Marty Oyloe (snareit) and Mitch Kvernum (mitchkvernum) checked in a total of 4 coyotes and one fox with a combined weight of 131.77 lbs for $144.00 Even though they had more weight than the 2nd place team, the points of 10 per coyote and 5 per fox puts them in 3rd.
4th Place: Team #3 Nick Nielsen and Matt Klabo checked in a total of 2 coyotes with a combined weight of 54.77 lbs for $108.00
5th Place: Team #1 Terry Bush and John Noonan checked in a total of 2 coyotes with a combined weight of 48.14 lbs for $72.00
Big dog: Team #12 Mike Houmann and Cory Hansen with a weight of 40.43 lbs for $170.00
Little dog: Team #11 Gary Will and Kevin Huntz with a weight of 15.14 lbs for $170.00
Congratulations to all the winners and sincerely apologize if i spelled anyones name wrong. If anyone has anything they would like to add to the hunt, and this topic feel free to do so. Thanks again to all who participated, and the Bush famil for all the amzing accomodations once again