Can't forget the money shots...
Both of these coyotes were taken at ~150 to 175yds. with the 22-243 and the 80g Berger. Both were shot in basically the same spot, front right shoulder exiting just behind the left shoulder. The one that I skinned out was nothing but a mess inside and the exit hole was roughly the size of a 50 cent piece or so. The second was roughly the size of a silver dollar. But really not bad for how much bone was hit. Both hits were complete incapacitation.
I don't typically take pictures of dead animals but I'm just giving you an idea of what kind of damage this pill will do. It really isn't to bad.
This is the one that was skinned out. It was a bloody mess inside,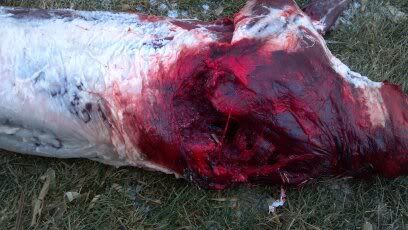 Coyote 2, entrance hole?
Coyote 2, exit hole.
Coyote 2, exit showing path.
Just thought it was interesting.
xdeano