I have been asked a few times in the past on how i set all my stuff up in my fur shed. Well last night i took the time and took some pictures of it. The first disclaimer i am going to make is that it's not even close to being clean!! It is a big mess right now with the late nights coming in from trapping and just wanting to go to bed. At least you are seeing it when it is in full operation.
This picture shows the back of the fur shed, where i have the radio, T.V. (connected to a dish

for when i want to get away), an exhaust fan to exhaust the smells and humidity out of the fur shed, the rack where i put the beaver pelts when drying, and the dog house that is below the beaver boards.
This picture is a close up of how i get the beaver boards to stand vertical. It is a 2x4 screwed down to the dog house. I can fit 2 beavers per board. Oh and on the far right is LeviM's stencil for beaver boards

This picture shows my drying rack in the fur shed, and is currently being put to use. I plan on adding more of these in other areas, when time permits.
This picture shows my fleshing beams, and the stainless steel sheeting that was put up for easy clean ups. There is a full description on these in the fleshing beam post i made.
This picture shows the best investment i ever made for trapping. This is my skinning machine that i use on just about all of the critters. Once the tail is removed, there is no more pulling for this guy. On a raccoon, it takes me roughly 10-15 seconds once i get it hooked up to the clamps, to when it is done. I mounted the clamps to the wall, so i can adjust them up and down. If i get a coyote in the shop, i adjust them to go all the way down so i can maximize the ceiling height (10' - 8"). For coon this is too short and i end up bending down too much, so i adjust it up a foot for coon. The entire set up, cost me roughly $150 when i was all said and done. I will be adding a foot pedal to this hoist in the near future and speed it up more yet. I need to sell some furs first though.
This picture is a close up of the clamps and there adjustabilities. I made sure to anchor the bottom of this rig to the base plate of the wall, and 2 - 2x6 studs up the sides, and the center stud on top. I do need to add a small piece of sheet metal (stainless) to the top of apparatus where my skinning tools are setting so i stop dropping them, and or looking for them.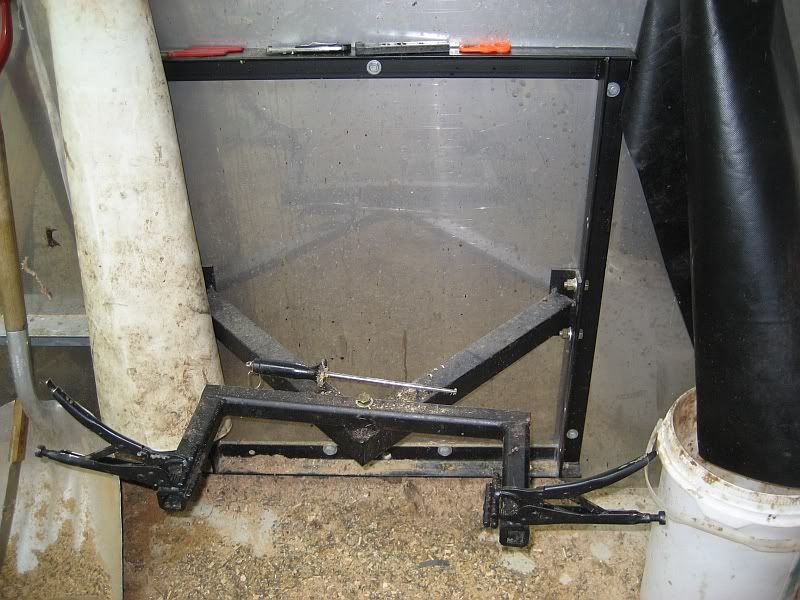 This picture shows how i mounted the hoist to rafters. I am tied into 4 different rafters with long leg screws. The hoist is possible of pulling 880 lbs when i double the cable, but right now it is at 440 lbs. I prefer the faster gathering rate, so the skinning goes faster. You need to know when to stop, or you will have half of the critter hanging in the air, and the other half on the ground

This picture show the table that i use to both nail beaver onto there boards, and what i use to open up coon, skin beaver, etc., etc. Above this table is the intake for the exhaust fan, which everything is ran on a timer that goes up to 12 hours.
This pictures shows my freezer that is currently full of a lot of work!! I only put up enough critters to keep a small amount of open space in the freezer, so i can trap more when the critters are moving and less time in the fur shed. Everything gets skun and then froze. Not to often do i skin and then flesh and put up. I only do this if they dont fit in the freezer.
This picture shows my work bench. I need to make some modifications to it, so i can start making some snares on it, but its coming along.
This picture shows my sink and washing machine. I feel these two are a necessity in a fur shed. It is really nice to clean up outside of the house, and it keeps the wife a lot happier.
This picture shows the thermostat in the Fur Shed. I have infloor heat in the fur shed, and it is on its seperate zone. I am sure glad i got into trapping before i built my house

It makes a guy think about what he really wants.
This picture shows the stairs that lead down to the basement portion of the house.
That is a full tour of my Fur Shed. I am open to all suggestions, comments, concerns, and or ideas. There is a possibility that i might have overlooked something that you guys have in yours, that is a real time saver. Feel free to steal any ideas i have done, or ask how i did it.