Got out to start the coyote calling season today! And just like last year it didn't disappoint! I killed 4 coyotes today and my buddy killed 1. Shortest shot being 50 yards and the longest was 400. The long shot is my furthest kill yet! That yote hung up out there due to a cow that was at the base of the hill looking up at u causing a fuss..
So got to break in the new equipment today! New Foxpro CS24b call that is extremely loud!! And my new tikka t3 varmint in .204 (super nice gun). I will get a better shot of it to put in the new shooting iron thread. Just got home and I see that my new scope I ordered for my birthday just showed! A vortex viper HS longrange with the exposed turret! I am putting that on the gun tonight as I am headed up north to my cousins place tommorow for  about 5 days of calling dogs in a very target rich environment! 
Pictures of the first few of the year! 
We get out to a late start this morning but on about our 4th stand it turned on. Called this first guy out of the cows way out there! Old dog with worn down teeth! 60 yard frontal shot and down he goes!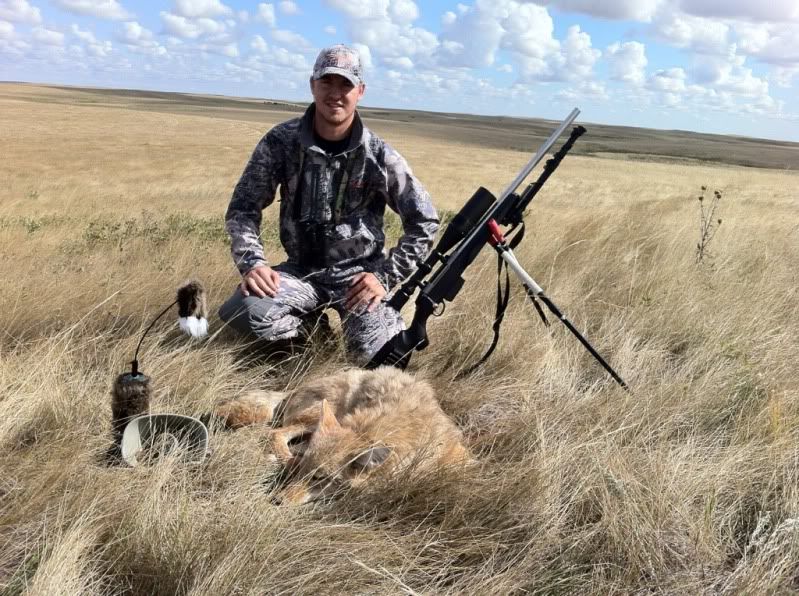 Next stand we set up to start calling in the cover of some long grass and as soon as I turned on the call I thought " I should have sat up higher cause this grass is hard to see over"
I poked up head to to look for a Better spot to sit and see a yote charging in off my right. I had enough time to hit the squeaks on the call and  grab my gun. I turned to the right and got on the sticks. The yote turned to leave and I hit her on the run at about 60 yards. #2 is down.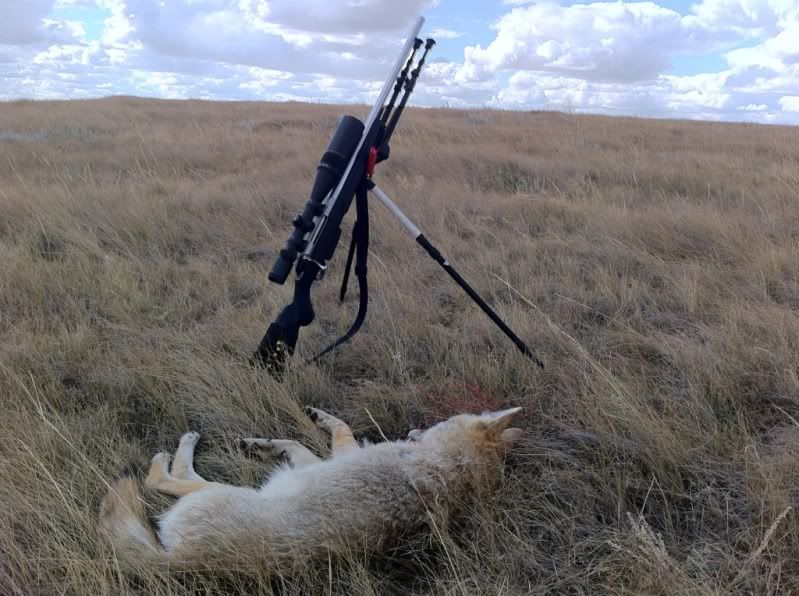 Next stand we set up over looking a big low spot. The call was playing for about 2 mins when my buddy spots one coming in from a ways off. It gets to 150 yards and he smokes it.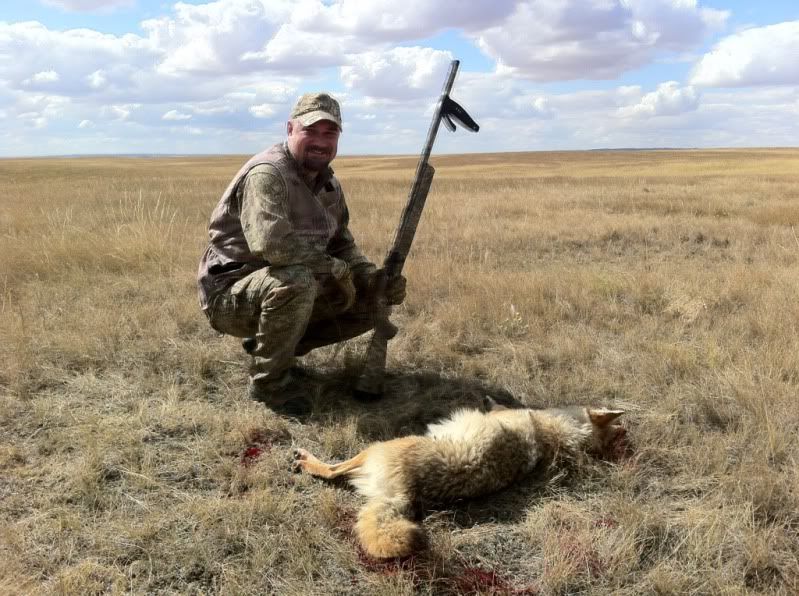 Stop for lunch and I noticed my call had some shine coming off it so I gave It a camo job with some camo hockey tape I had in my bag. Looks great!!
Next stand we set up on the side of a big hill where we have killed dogs at before. We start calling and a Cow comes around the hill and stands at the bottom and makes a racket balling and carrying on. We were about to pack up when I spot a yote out a ways. He turns to leave then stops broadside for a second. I line up and him and hold about a foot over his back cause I have no idea how far he is! Boom! Does a spin and takes off over the hill. I see him pop up over the other side and lay down. We make the trek over and gave him a finisher. #3 in the bag for me! My buddy didn't even see this one come in and when we ranged the shot I was pretty happy with myself for making that shot! 
Had a couple dry stands after then we set on the side of a hill with a spine like ridge coming down the middle. I watched one side my partner on the other. We can see cows way out in the distance. At about the 6 min mark we spot a coyote way out running our way. He comes in on a string on my side of the spine ridge and I drop him at 100 yards. 
We had to be back in the city so we packed up and headed home! Good start to the season! Wanted to get out and make sure everything worked for my trip starting tommorow!
Will post up our results when I get back!