News Release . . . For Immediate Release . . . Jan. 05, 2004
COYOTE CLASSIC A SUCCESS
The 2nd Annual North Dakota Coyote Classic, hosted at the Hospitality Inn and Convention center in Dickinson, North Dakota December 19 - 21 2003, with over $4000 in cash and prizes has officially been declared a success- not only by hunters who competed in it, but also by the one hundred plus individuals who showed up for the event?s seminars both Friday and Saturday night. Go to
http://www.coyotehunter.net
for tournament pictures and team results. Unlike most coyote tournaments hosted throughout the state, this year?s Coyote Classic offered hunters an opportunity to learn about hunting and calling coyotes from Walt Earl of
http://www.Coyoteclub.org
, from Judith Gap, Montana, Travis Osmond with Hunting Illustrated from Mt. Pleasant, Utah, Don & Ryan Laubach of E.L.K. Inc. from Gardner, Montana and Knight-Hale pro-team member Matt Barnard from Mitchell, South Dakota.
The tournament offered prize money and plaques to the teams that brought in the most number of coyotes in two days. Cash prizes both Friday and Saturday for largest and smallest coyotes brought in by the two-man teams. Sunday at the Belfield Sports Club Coyoteclub.org held their first coyote silhouette shoot with cash and prizes for the top three scores. This style of tournament, expert lecturers, coyote silhouette shoot, a sporting goods store (Andrus Outdoors) on site and door prizes is one of a kind in the state of North Dakota.
Coyoteclub.org first ever silhouette shoot was held at the Belfield Sports Club. This 3-position shoot had you take 1 shot each at a coyote target from standing, kneeling, and sitting from 75 yards. First place went to Tim Logan of Bismarck, North Dakota. Tim was awarded $250 and a plaque. Ike Kuntz of Dickinson, North Dakota was runner-up and took home $150 and a plaque. The third place plaque and $100 went to Jayson Deziel from Grand Forks, North Dakota. Thanks to all that participated in this event. Jayson Deziel will be the new chair for the North Dakota chapter of
http://www.Coyoteclub.org
.
The largest coyote shot on Friday was 35.03 lbs taken by the team of Todd Heid of Almont, North Dakota and Kelly Johnson from Ballwin, North Dakota. The smallest brought in was 23.0 lbs by Gary Will and Gary Redman from Valley City, North Dakota. The largest coyote taken Saturday was by Terry and Travis Bush of Minot, North Dakota. Their coyote weighed in at 37.8 pounds. The team of
Quentin and Denver Kitzan from Dickinson, North Dakota dispatched the smallest coyote, this little coyote weighed in at 22.13 pounds. Each of these teams split $572 for the big dog/little dog contest.
Over 200 coyotes were sited during this two-day event with 46 of the best coyote hunters around checking in 56 coyotes. First place this year went to Todd Heid and Kelly Johnson of Almont, ND. Todd and Kelley brought in a total of 8 coyotes, and were awarded $780 and coyote head trophies. Second place went to Quentin and Denver Kitzan of Dickinson, ND for bringing in six coyotes. They were awarded $488 and plaques. Tory Heid and Ron Geffre of New Salem, ND, bringing in 5 coyotes, won third place. Taking Home $390 and plaques. Tim Thiel and Dale Christman of Dickinson, ND brought in five coyotes, putting them in fourth place and earning them $195 and plaques. And finally, fifth place went to Steve Feist and James Kessler of Bismarck, ND for bringing in five yotes. They won $98 and plaques. (All ties are broken by check-in times of the second day)
Putting on a tournament of this caliber required a lot of planning. We would like to thank Amy Braun and Terry Thiel of the Dickinson Convention and Visitors Bureau for all their hard work. Thanks also to Mike and Jeff of Riverside Marine & Cycle, Travis Osmond with Kings Desert Shadow Camo of
http://www.Kingsoutdoorworld.com
, Tony Dorschner of Varmint Hunter Association, Don Laubach with E.L.K. Inc., Matt Barnard with Knight-Hale game calls, Walt Earl with Coyoteclub.org, Fur-Fish-Game, George Smith from Clear Channel Radio, Jayson Deziel Of Artistic Wildlife Taxidermy, Doris and Eileen of the Hospitality Inn and Greg and Susie Knutson owners of Andrus Outdoors of Dickinson, ND. Thanks also to Pine Valley Trophy for their one of kind coyote skull trophies. We would like to thank all of you for setting up booths, giving seminars, advertisement and donating doors prizes. And special thanks to all the hunters who participated in the tournament and who came out to the seminars. We hope to see you all again next year.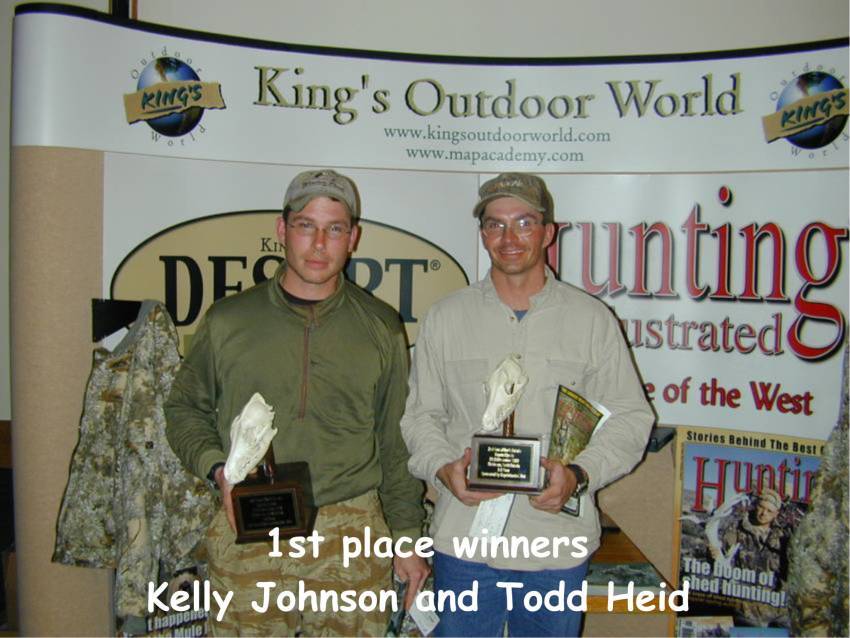 http://www.coyotehunter.net/upload/04NDCC_RESULTS.doc