Coyotehunter.net Points Series for 2010-2011 (more info to follow)
A points series is going to be set up for coyotehunter.net sanctioned tournaments. a team can register at the start of the season ($), so far 5 tournaments will be involved (maybe more), points will be awarded for tournaments entered, number of tournaments, coyotes shot, and final placing in each tournament. We will award a traveling trophy with the name of the winning team being placed on a tag on the base of the trophy.
Coyote Classic Points Series Championship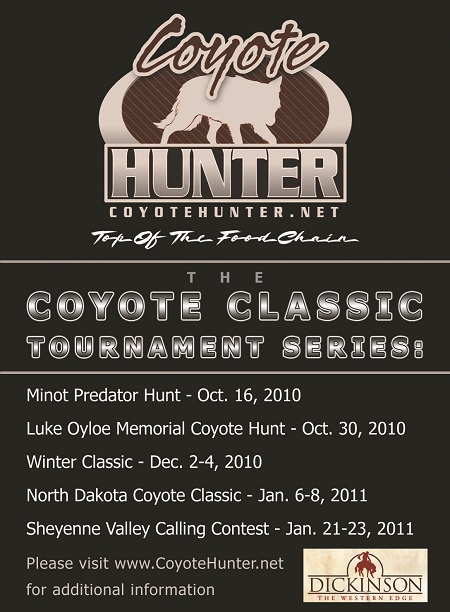 $50 pay in per team to register for the points championship. You will have a team captain, the team captain may substitute partners and retain points.
Point received for placing in a tournament
Place Points
1st 100
2nd 90
3rd 80
4th 70
5th 60
6th 50
7th 40
8th 30
9th 20
10th 10
points for entering tournaments per tournament
1st 10
2nd 20
3rd 30
4th 40
5th 50 points
Points per each coyote shot 10
Points per pound 1
Most coyotes shot each day on 2 day tournaments. 10
$10 per team on a 1 day hunt will go towards the pay out for the points series champions.
$20 per team on the 2 day hunts will go towards the pay out for the points series champions.
Example: Tom and Bob enter the Minot Predator Hunt (10 points) Tom is the captain of their team, They shoot 4 coyotes (40 points), and they take 2nd place (90 points), total wt. of their coyotes is 120 pounds (120 points) for a total of 260 points. Tom wants to hunt The Luke Oyloe Memorial Hunt but Bob is unable to attend, apparently his sister-in-laws 3rd marriage is more important then hunting coyotes, so Tom picks up a new partner for this hunt. Tom and his new partner Raymond enter the tournament (20 points) which is Tom's 2nd and he is the captain so he retains the 260 points from the Minot hunt. Tom and Raymond get 1 coyote (10 points) (because Raymond couldn't hit water if he fell out of a boat) and that coyote wt. was 24 lbs (24). They do not place but Tom adds another 54 points to his season total. Bob can hunt again with Tom or get a new partner for upcoming hunts. He will have to pay and register if he wants to get into the points series and accumulate points. The intent is for a team to stay together through out the year but does allow for substitutes if you team member can not make it to a hunt. This format has been used in fishing tournament series and though it may not be perfect it will be a place to start.