News Release . . . For Immediate Release . . . Jan. 18, 2005
COYOTE CLASSIC A SUCCESS
Despite bitter -50 degrees wind chill conditions, the 3rd Annual North Dakota Coyote Classic, sponsored by Coyotehunter.net was a great success. Hosted at the Days Inn and Grand Dakota Lodge in Dickinson, North Dakota January 13-15, 2005, this tournament offered over $6000 in cash and prizes with an additional $995 generated by our first Calcutta team auction and $500 added money from Coyoteclub.org. Unlike most coyote tournaments hosted throughout the state, this year's Coyote Classic offered hunters an opportunity to learn about hunting and calling coyotes from Walt Earl of
http://www.coyoteclub.org
, from Judith Gap, Montana, and Primos pro-team member Kirby Nauta from Spearfish, South Dakota. Go to
http://www.coyotehunter.net
for tournament pictures and team results.
The tournament offered prize money and plaques to the teams that brought in the most number of coyotes in two days. Cash prizes were awarded both Friday and Saturday for largest and smallest coyotes brought in by the two-man teams. This style of tournament, expert lecturers, Calcutta auction, added money and door prizes is one-of-a-kind in the state of North Dakota.
The largest coyote shot on Friday was 33.5 lbs taken by the team of Gary and Chuck Riedman of Valley City, North Dakota. The smallest dog weighed 20.6lbs and was taken by Tom and Matt Benjamin from Terry, Montana. The largest coyote taken Saturday was by Kevin Swanke of Marmarth, North Dakota, and Wayne Buchholz of Rhame, North Dakota. Their coyote weighed in at 34.09 pounds. Eric Olson from Reynolds, North Dakota, and Brent Miller from Albert City, Indiana dispatched the smallest coyote. This little dog weighed in at 21.04 pounds. These teams split $570 for the big dog/little dog contest.
Over 100 coyotes were sited during this two-day event with 46 of the best coyote hunters around checking in 45 total coyotes. The top five teams split purses totaling $4,450.00. First place this year went to Kevin Swanke and Wayne Buchholz who brought in a total of 14 coyotes. They were awarded $1,574.00 and coyote-head trophies. Second place went to Eric Olson and Brent Miller for bringing in six coyotes. They split $688.00 and plaques. Tim Thiel of Washburn, North Dakota, and Dale Christman from Dickinson won third place with five coyotes, awarding them $850.00 and plaques. Fourth place went to Gary Will and Kevin Hertz with four coyotes. Fourth place put their winnings at $413.00 and plaques. Fifth place winners were Mike and fourteen-year old son Aaron Anderson (5:05pm) with three coyotes. They won $275.00 and plaques. Brad and Brian Troftgruben (5:22pm) took sixth place with three dogs and took home a Pro Chrony chronograph and Stoney Point Shooting Stix. Tom and Matt Benjamin, with two coyotes (4:53pm) won seventh place and were awarded Desert Shadow Camo. Eighth place went to Arvon and Randy Heidt. They took home a Pro Chrony Chronograph and Stoney Point Walking Stix for shooting two coyotes (5:29pm). Ninth place was won by Jeff Rheborg and DuWayne VanDenHoek with two coyotes (5:56pm). They won Stoney Point Shooting Stix and Snow Camo cover-ups. Gary and Chuck Riedman shot one coyote (5:05) winning them tenth place and a set of two-way radios and a Cabelas gun case.
Coyotehunter.net, would like to thank Amy Braun and Terry Thiel of the Dickinson Convention and Visitors Bureau for all their hard work. Thanks also to Roger and Dominique of Riverside Marine & Cycle, Walt Earl with Coyoteclub.org, Travis Osmond with Kings Desert Shadow Camo of
http://www.Kingsoutdoorworld.com
, Ed Binstock of Big E Auctioneering, Jeff Rheborg of Varmint Hunter Association, Jayson Deziel Of Artistic Wildlife Taxidermy, My good friend Steve Tinsley of Prescott, Arizona, Days Inn and Grand Dakota Lodge of Dickinson, ND. Thanks also to Pine Valley Trophy for their original coyote-skull trophies. Thanks to all the contributors and sponsors: Primos, Cabellas, Tally Ho, Shooting Chrony Inc. , Berger Bullets, Redding Reloading, Crit-R Call, Hodgdon, Don Laubach with E.L.K. Inc., Tom Ward from Dakota Yote, Advanced Decoy Research, Inc., Desert Shadow Camo, Bell & Carlson, Trane Company, Walt Berger of Berger Bullets, Hunting Illustrated, Major Boddiker, Mark Zepp, Brian R. Mitchell, We would like to thank all of your help and support, setting up booths, giving seminars, advertisement and donating doors prizes. And special thanks to all the hunters who braved the elements in this year?s tournament and who came out to the seminars. We hope to see you all again next year.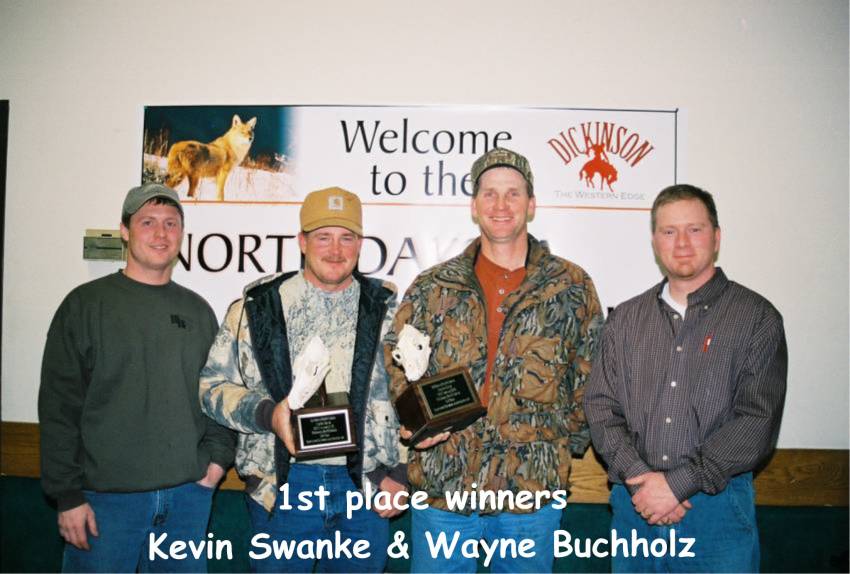 L to R. Winners Kevin Swanke, Wayne Buchholz